Tanganyika Law Society has partnered with the Canadian Bar Association to implement a project to support inclusive resource development in Tanzania. The project runs for a period of five years from 2017 to 2022
In a nutshell, the project seeks to;
Increase engagement of TLS to advocate for law reform to reflect the principles of transparency, gender sensitivity, and accountability in the extractive industries.
Increase community participation, particularly of women, to advance and protect their rights related to the extractive industries.
The SIRD project is funded by Global Affairs Canada and is implemented by the CBA in partnership with the EALS, Law Society of Kenya, Tanganyika Law Society and Uganda Law Society.
TLS-SIRD CONDUCTS TRAINING FOR LAWYERS INVOLVED IN NATURAL RESOURCE MANAGEMENT IN TANZANIA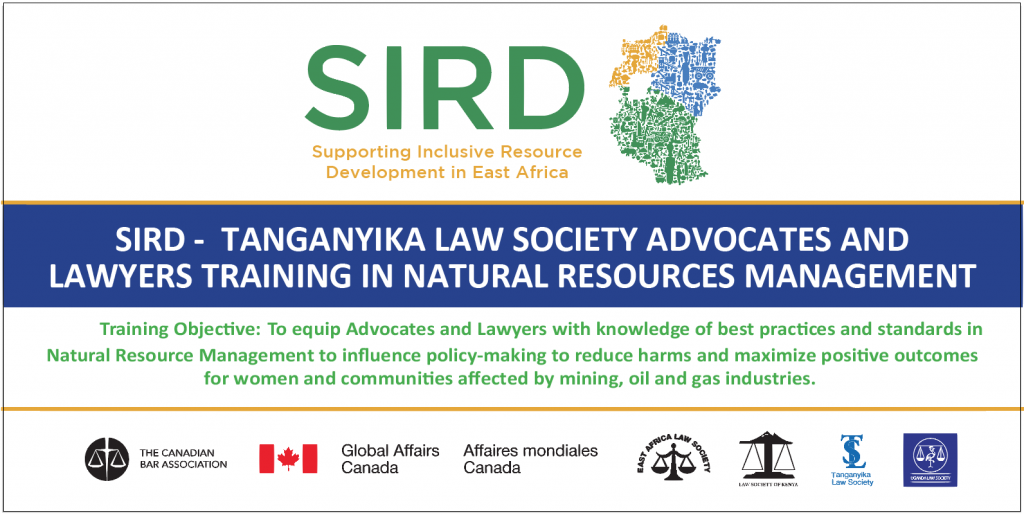 The SIRD-Tanganyika Law Society (TLS) in March 2019 inaugurated training in Tanzania for lawyers that are involved in policy and governance of natural resources. The carefully selected group trainees comprise legal experts drawn from government, civil society, the private sector and other extractive industry policy-making organs in Tanzania. The training is divided into five modules where a module is completed in two days. Facilitators in each of the sessions are sourced both from Tanzania and from Canada.
The experts collaboratively selected relevant content which incorporated gender-sensitive and gender transformative content. The objective of the training was to equip a core group of lawyers with knowledge and skills in natural resource management to support inclusive and sustainable resource development in Tanzania. Upon completion of the training, TLS intends to utilize the trained professionals to achieve SIRD  key strategic objective of advocating for law reform in the extractives industry in Tanzania so that laws made reflect principles of transparency, gender sensitivity, and accountability in the extractive industry
By drawing trainees from the various relevant sectors, SIRD-TLS also looks to create a network of individuals that will be integral focal points in advocacy and law reform initiatives in Tanzania.
So far TLS has completed four of the five carefully formatted modules. All trainers collaboratively developed case studies and group exercises which were created to give the trainees a thorough practical understanding of the developed training content. Each trainer drafted a set of questions relevant to his/her topic which were administered pre and post-training to monitor and record the level of change in the understanding of the trainees.
Session One
This session took place on the 8th and 9th of March 2019 at the Seashells Hotel in Dar es Salaam. It focused on legal, policy and regulatory frameworks in the extractive sector governance in Tanzania. This session introduced the national extractive industry and examined governance frameworks to support inclusive resource development. It considered the relationship between different legal instruments (constitution, sector laws, regulations, contracts) and possibilities to entrench special protections, e.g. community development, gender equity, environmental protection, local content, etc. It examined gender dimensions of resource development and mainstreaming gender considerations in policymaking. It also examined different types of contracts used in mining, oil & gas and critical issues in contract disclosure and monitoring.
Topics covered include, inter alia, gender-sensitive policymaking, and contract disclosure and monitoring. All topics had in them an international perspective for the trainees to best appreciate practice and experience elsewhere especially in Canada.
Session Two
The second training session focused on community engagement and development. This session took place on the 18th and the 19th of March 2019 at Seashells Hotel in Dar es Salaam. The session focused on how to go about engaging community members when undertaking community consultation & development. Participants were guided on ways to ensure the interests of these members are protected and the criteria of choosing individuals who ought to represent these people's interests. It was accentuated that there are no point in capturing people's views and opinions while undertaking community engagement if one is not going to take them into consideration, such was deemed, disrespectful. Deliberate training for women was emphasized so as to ensure space is opened up for them to be community leaders and to have women at the table as well.
Topics included, inter alia, community consultations and engagement in Canada and at the National level, aspects of corporate social responsibility, revenue and benefit-sharing, local content and community women empowerment.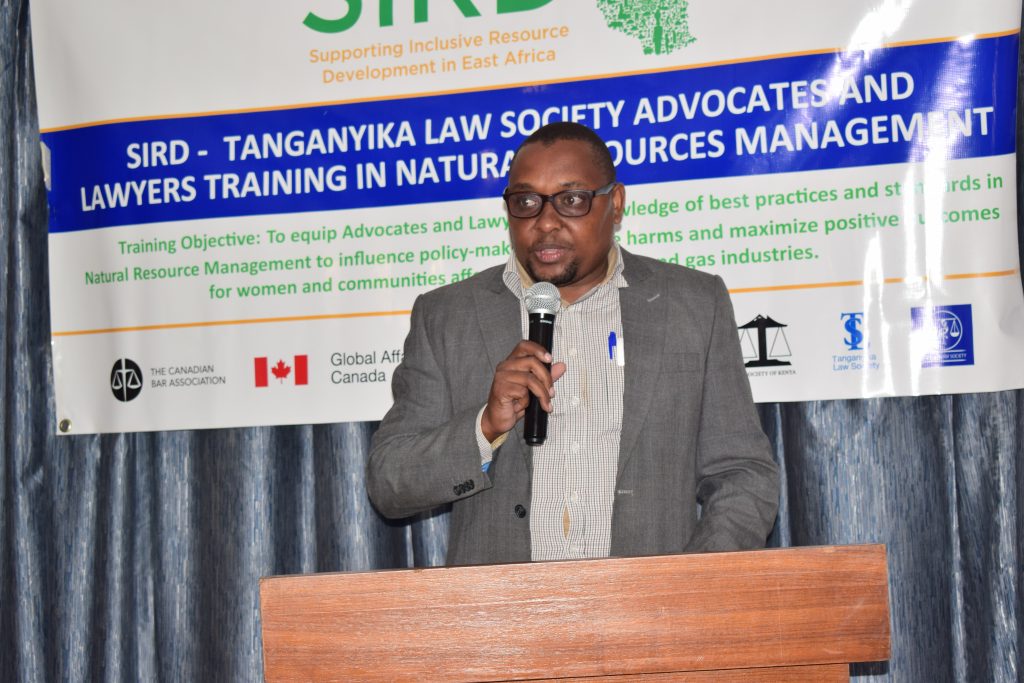 Session Three
The third session took place on the 13th and 14th of June 2019 at the DoubleTree by Hilton Hotel in Dar es Salaam. This session examined the relationship between land rights and land acquisition, as well as the resulting impacts on land rights and associated concepts of appropriate compensation. It also considered the nature of communal and individual land rights in this context, and what compensation and resettlement are appropriate when such land rights are impacted.
Topics covered included, land acquisition, resettlement and compensation (communal and individual land rights) as well as dispute resolution mechanisms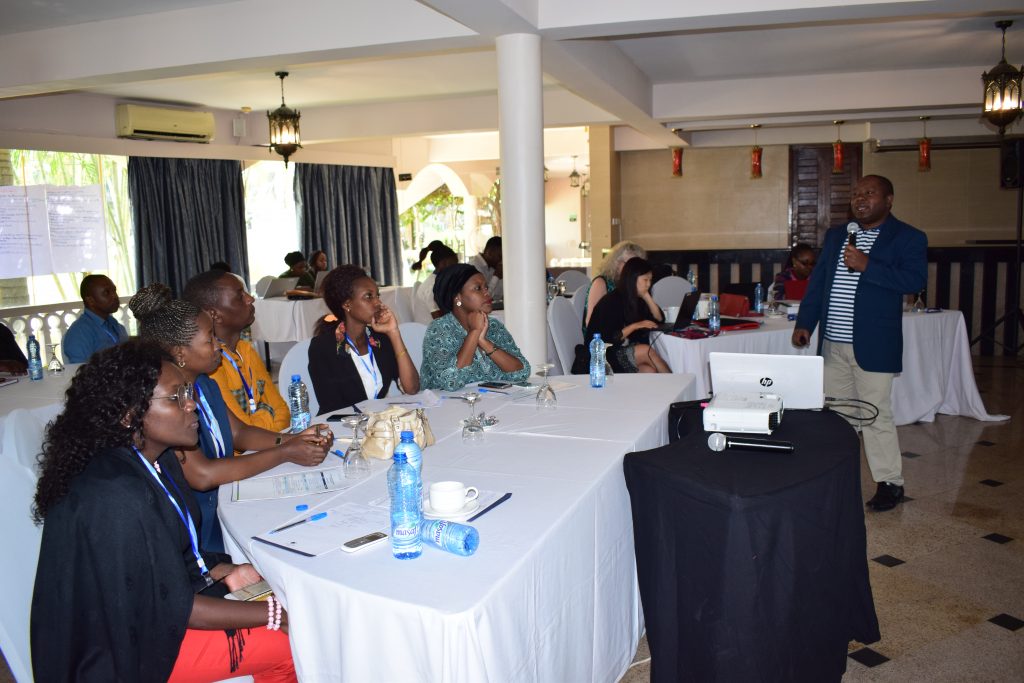 Session Four
Session Four focused on resource extraction impacts on the environment and examined the legal and policy frameworks governing environmental management and protection from the national, regional and international perspectives. It explored monitoring and enforcement mechanisms, best practices for environmental impact assessments and strategies for addressing health and safety risks faced by communities and employees affected by extractive industry operations. Topics covered included, unpacking regulatory frameworks for environmental management and protection both at the national and international level, health and safety concerns in natural resource extraction as well as gender considerations in the workplace. This session took place on the 18th and 19th of June 2019 at the Double Tree by Hilton Hotel in Dar es Salaam.
Topics covered included, unpacking regulatory frameworks for environmental management and protection both at the national and international level, health and safety concerns in natural resource extraction as well as gender considerations in the workplace.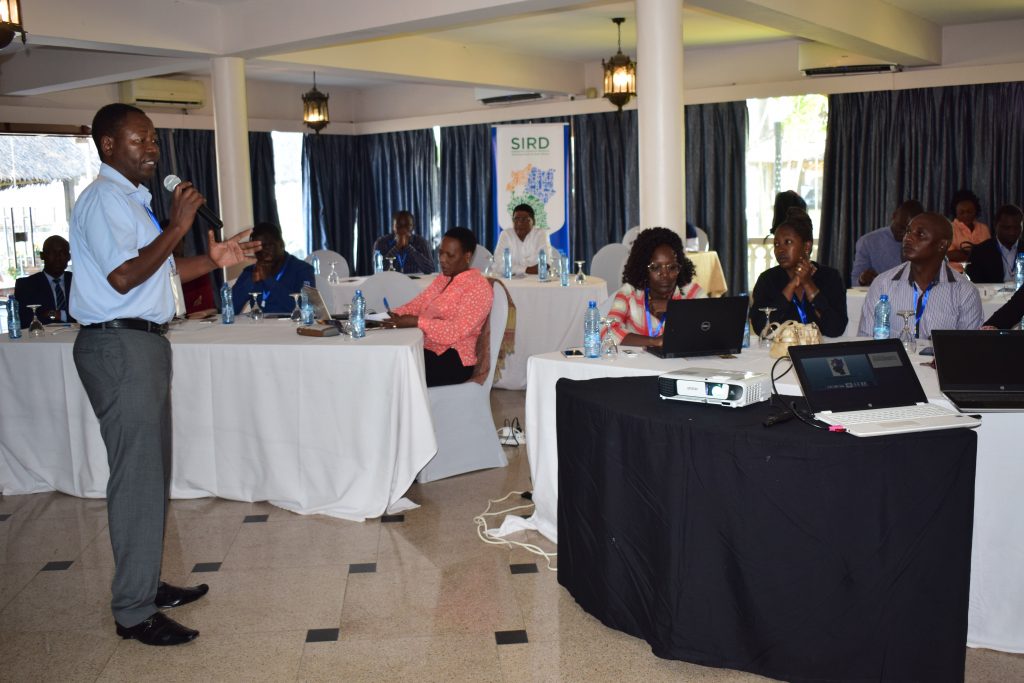 SIRD-Tanganyika Law Society conduct Comprehensive Review of Extractive Industry Laws
A key focus area of the SIRD is policy and legal reform to reflect principles of transparency, good governance and accountability of the extractive industry sector in Tanzania. Achievement of this objective requires a critical review of the existing legal frameworks governing the sector. This activity has successfully been undertaken in Tanzania in which the SIRD project is being implemented with the completion of extractive industry law reviews.
The law review identified some cultural issues which prevent women from benefiting from the extractive industry. It also noted that Tanzania is a signatory to a number of international, continental and regional conventions and also constitutional protections that ought to govern the extractive industry. Despite the existence of proper legal frameworks, the reviews identified areas where legal reform, be it in the form of legislative, regulatory or policy changes is necessary for communities and women in particular to benefit. E.g The Tanzania Extractive Industries (Transparency and Accountability) Act, No. 23 of 2015 establishes a number of oversight regulatory organs. Among these is the envisaged Tanzania Extractive Industry Transparency and Accountability Committee. The Committee is to be comprised of 15 members and is to be an independent government entity with oversight on promoting and ensuring transparency and accountability in the industry. The appointing authority is required to have regard to gender balance in the make-up of the Committee. However, unlike specific provisions in other Acts where there is to be a specific number of women, this provision is vague and does not ensure effective participation by women in this Committee. After the law review report has been finalized, this could be an area of law reform.
The report has been revised after the validation meeting, and  TLS in collaboration with other civil society organizations will work together to determine areas or particular policy/regulation(s) or legislation that should be pursued to enhance gender considerations in the legal framework governing the extractive industry. In this respect, TLS will also utilize the advocates who have been trained in policy development to advance these project objectives.